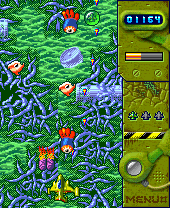 Game description: The Earth is threatened! Two old plutonium disposal plants damaged at once by some unestablished reason. A very toxic gas escaped and sported flora and fauna. The humanity should search for another planet to settle.
But there is a chance to save the Earth according to aerial reconnaissance. Corporal Bogee was sent on this mission. He must seek and destroy 2 main sources of radioactive materials - in the african jungle and somewhere near the North Pole. By piloting the last airworthy battle-plane corporal Bogee will face the countless numbers of mutants aiming to destroy the last hope of mankind.
The game was developed and published by Bogee Interactive and can be downloaded from here.